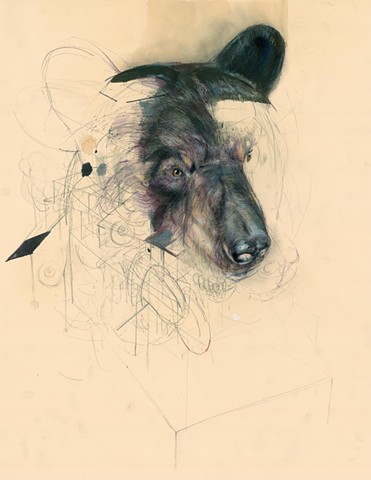 Douglas Miller is a professional artist whose drawings are exhibited regionally and in galleries across the United States. Among other awards, he has received the Al Smith Individual Artist Fellowship from the KY Arts Council and the National Endowment for the Arts. Additionally, Douglas does freelance illustrations as well as private and corporate commissions. His artwork is in the collection of the Evansville Museum of Arts and Science, the University of Louisville, the Speed School of Engineering, and numerous private collections around the world. Douglas lives and works in Louisville, Kentucky.
Douglas is available for commissions or requests for specific work. Please contact for further information and pricing.
douglasmillerart@gmail.com


UPCOMING EXHIBITIONS AND EVENTS:
New hand drawn music video by Douglas Miller released at rollingstone.com!
https://www.rollingstone.com/music/music-country/joan-shelley-new-album-like-the-river-loves-the-sea-cycle-video-859613/
New hand drawn music video by Douglas Miller and Joan Shelley released on NPR!
https://www.npr.org/sections/allsongs/2019/07/16/742236603/joan-shelley-returns-with-new-album-shares-the-song-cycle
New Douglas Miller drawings exhibit at Blue Spiral Gallery in Asheville, NC in Nov. 2019
Biophilia Carnegie Center for the Arts November 2018
Title: A Solo Exhibition of Douglas Miller's Thesis Project at The Cressman Center for Visual Art. Louisville, KY. April 2018 - September 2018
Exhibition at Galerie D'Art La Corniche in Quebec. February-March 2017
Exhibition at Blue Spiral One in Asheville, NC. November 2016- January 2017
Plan for More Undoing: Drawings by Douglas Miller
Solo show at Young Harris College, GA. January 21, 2016- Feb.13, 2016.
Honored to have been awarded the Al Smith Fellowship for visual arts from the Kentucky Arts Council and the National Endowment for the Arts. This is the largest award to an individual artist in the state of Kentucky.
Plan for an undoing: New Drawings by Douglas Miller
The Green Building Gallery in Louisville, KY. August 3- September 18, 2015.
Exhibiting at Metro Hall in Louisville, KY. as a part of the Yes! Fest! "Year of Sustainability" July 2015 through Dec. 2015.
Exhibiting at MA Doran Gallery in Tulsa, OK. September 2015.
Exhibiting at Lexington Living Arts and Science Center Museum, March 20, 2015.
Honored to have won the First-Place Prize in the Annual Mazin Exhibition!
Illustrated the January 2015 cover for LOUISVILLE Magazine!
Exhibiting at Blue Spiral 1 Gallery in Asheville, NC. January 2015
Exhibiting at Antler Gallery in the group show "Revolver" Portland, OR.
February 2014
Exhibiting at the Kentucky Derby Museum Feb.3, 2014-Aug. 3, 2014
Opening reception Feb. 20, 2014 5:30-7:30pm
The wonderful Australian magazine "Frankie" has interviewed me. You may read it here...www.frankie.com.au/blogs/art/artist-int…
Thank you Louisville for voting me "Best Visual Artist" in the 2013 LEO Reader's Choice awards.
Exhibiting as part of the "Troublesome Houses: An Art Tribute to Will Oldham" group show.
PUBLIC Gallery, 131 W. Main Louisville, KY.
Reception Nov.1, 2013
"By the Numbers" Exhibit at PUBLIC Gallery, 131 W. Main Louisville, KY.
Reception Sept.6, 2013 runs through Sept.28, 2013
Lecture and Lunch Sept. 10, 2013 12-1:30
LVAA "Food for Thought" Series www.louisvillevisualart.org/DouglasMill…
Log on to www.artxfm.com/listen/ on Monday 07/08/13 at 10pm EST for a discussion of artwork and music.
Louisville's "The Paper" has interviewed me, read here:
www.thelouisvillepaper.com/2012/09/08/a…
The Beautiful People Project has interviewed a humbled yours truly. Read here...
www.thebeautifulpeopleproject.com/2012/…
CLICK THE LINK BELOW TO SEE PHOTOS OF DOUGLAS MILLER'S SOLO EXHIBIT AT THE PATIO GALLERY...
www.facebook.com/media/set/?set=a.27958…
READ A REVIEW OF THE "OLD & NEW DRAWINGS" EXHIBIT HERE:
www.louisville.com/content/beauty-and-b…